TONNELLERIE BERTHOMIEU & ERMITAGE
VINIFICATION INTEGRALE® : TURN YOUR BARRELS INTO A RED FERMENTER!
BERTHOMIEU now offers Vinification Integrale® method and accessories, an exclusive process to vinify wines.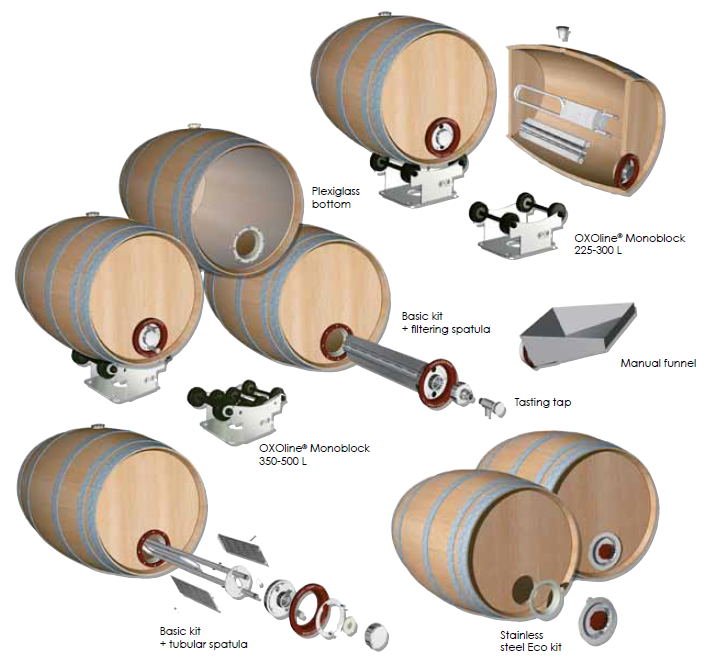 SUGGESTED USE
1- Filling the Barrels with harvested grapes
The barrel should be filled to around 85 % of its volume. For example, 340 L of must should be placed in a 400 L barrel. The best results are seen when the harvested grapes are destemmed, but crushing remains optional.
The barrel can be filled by gravity, directly after a sorting table, optional funnel, manually, or by pump (maximum diameter 100mm).
Addition of sulfur
Rotate barrel several times to achieve homogenization of must within barrel.
If a cold maceration is desired before fermentation, dry ice may be added to the must progressively, or our optional thermal exchanger may be employed..
2- The alcoholic fermentation
Once the alcoholic fermentation has started, the temperature should rise naturally to 25-26C for a 225 L barrel and to 28-29C for a 400 L barrel. Nevertheless, it is possible to use our electrical heating kits to reach the desired temperatures and allow better temperature control.
6 – 8 rotation cycles per day are recommended (1 cycle : a 360 rotation in one direction, then in the opposite direction, open the bung to release the pressure and then repeat a second time)
Sparging with Nitrogen is possible, if desired.
Micro Oxygenation may be employed via "ox box", if desired.
3- End of the alcoholic fermentation - Post fermentation maceration
During the post fermentation maceration 1-2 rotation cycles can be performed daily.
The desired temperature can be maintained using our optional heating kit, or by regulating the temperature of the room.
4- Racking, MLF, ageing
Racking the wine can be accomplished through the Basic Kit and Draining Paddle, an esquive, or by removal of the Eco Kit for draining directly into the press.
The must comes out easily with the help of a stainless steel scraper
After cleaning, the same barrels can be used for malolactic fermentation and wine ageing