PRONEKTAR
ANOTHER OAK ALTERNATIVE PRODUCT ON THE MARKET ?
Distinctive and reliably consistent top-quality products are never too numerous in the winemaker's tool box. The Radoux R & D experts keep that in mind when they constantly broaden the field of cooperage. With the exact same search for excellence, they designed a whole range of oak alternatives under the Pronektar brand.

Nuance is proud to introduce a state-of-the-art range of products.
A DIFFERENT SHAPE FOR EACH USE
As trivial as it seems, the shape of the oak adjunct will determine primarily the speed of extraction of its soluble compounds.
It will obviously change the practical aspects of handling and implementation in the winemaking process.
Less pointed out is the fact that the shape also determines the results obtained by a given manufacturing process as well as its homogeneity.

Pronektar has developed a thorough understanding about this area and ensures a process perfectly adapted for each format of its range of products.
Staves: moderate speed of extraction allowing a good integration into the wine during the aging phases (recommended time of contact of 5 months and more)
Staves XL: same length than the standard staves but wider and twice as thick, the XL staves release their compounds over a long period of time accompanying the natural aging process of the wine in tank (recommended time of contact of 7 months and more). The XL staves are also recommended for multi-use although the diffusion is not linear and its kinetic differs between molecules therefore the impact on the wine will vary from one fill to another.
Sticks: sticks have been designed for being introduced into neutral barrels through the bunghole and impact the wine in a very similar way as the staves in tank (recommended time of contact of 5 months and more).

Short set of sticks: 1 set approximates 40% of the effect of a new barrel.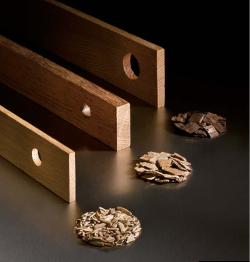 Blocks: square pieces of staves, the segments have a similar impact, with a slightly quicker diffusion. Packed in mesh bags, their handling are better suited for some practical conditions and process constraints.
Chips: chips have a faster diffusion than the staves. They are used when the time of contact is limited (recommended time of contact of 6 weeks and more).
Granulates: granulates release their compounds very quickly into the wine. Therefore they are particularly adapted for addition in fermentation and maceration phases for a quick impact on young and reactive wines.
A TIGHTER GRAIN FOR MORE COMPLEXITY IN LONG TERM AGING
Just like in Radoux's barrel range, a special selection of tight grain ( < 2.5 mm) TGS is available with the Nektar Excellence French Oak staves.
Tighter grain is particularly recommended for reserve blends with a long aging time. It releases its compounds gently and results in a richer more complex aromatic profile.
FRENCH OAK vs. AMERICAN OAK
While French oak brings structure and aromatic complexity, American oak releases less tannins and more lactones resulting in sweet flavours with, generally, a positive impact on green wines. Both origins may be used in combination for benefiting from their distinctive effects.

Nektar Essentielle staves, sticks, segments, toasted chips and granulates are available in both French and American oak.
OAKSCAN®: SORTING THE WOOD FOR CONSISTENCY AND DISTINCTION
Radoux OakScan® is a system of rapid analysis, based on Near Infra red Spectrometry:

The raw wood is scanned when entering the production process. A polyphenolic index (0 to 100) is calculated according to a confidential formula, which estimates the polyphenolic richness. It is a linear combination of the values of the reference chemical indexes (DO280, Folin Ciocalteu and total Ellagitannins).

Pronektar implemented OakScan® in its production of Nektar Fresh and Nektar Duo Fresh, sorting high phenolic potential wood. Therefore, used in early stages of the red wine production, particularly during maceration, Nektar Fresh and Nektar Duo Fresh enhance color and body by participating in tannin/anthocyanin polymerization.

Pronektar also developed Extreme, a whole range of staves based on phenolic potential measured with OakScan®. Three different toasting patterns have been specifically designed for three levels of phenolic potential resulting in three very distinctive staves: Extreme Delicat, Extreme Complexe and Extreme Intense.
BUY OAK, NOT WATER...
Pronektar products are some of the driest on the market. In particular, the untoasted Nektar Fresh undergoes a specific drying treatment so that no condensation forms in the bags and the product keeps its characteristic over time in storage.

Plus, when purchasing a kg of Nektar Fresh, you don't buy 150 g of water…
FOOD AND HEALTH SAFETY
The batch number marked on the staves packaging corresponds to the toasting batch and helps ensure the traceability of the products. Pronektar® regularly carries out checks on potential contamination:
Haloanisols and Halophenols: TCA, TeCA, PCA, TBA, TCP, TeCP, PCP and lindane.
Polycyclic Aromatic Hydrocarbons: sixteen compounds analyzed including benzo-a-pyrene.
Metal traces: Iron, Lead, Arsenic, Cadmium and Mercury.

The chemical analyses relating to the supplied products are available upon request.