PERA EQUIPEMENT FOR HEATING & COOLING
GREEN CRYO: MULTIFONCTIONAL CHILLER FOR GRAPES AND WINES
Green Cryo is an innovative multifunctional chiller that can treat fluids with solid parts (grapes, must, wine and lees) as well as liquids (water or glycol). With its original design, Green Cryo can produce both cold and heat.
Applications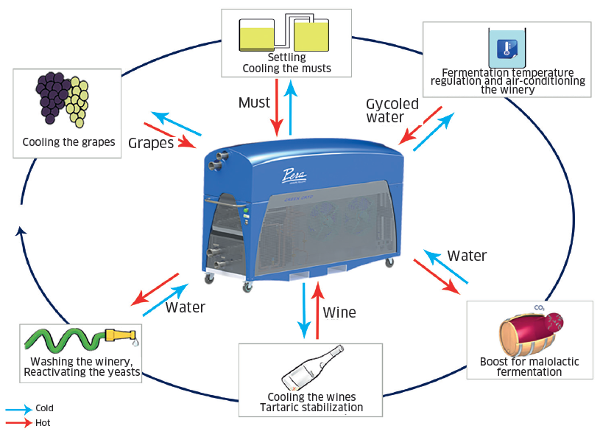 Advantages
Quality:
- Respects the integrity of the products to be treated
- Constant temperature
Cost effectiveness
- Multifunctional tool: can be used for several tasks
- Depreciates over longer periods
- Recovers energy
- Meets the needs of smaller structures
- Low maintenance (scroll compressor)
Performance:
- Sustainable development: pure gas which lasts over time
- Multifunctional: solid or liquid
- Better energy efficiency (R134a pure gas and energy recovery
Comfort:
- Silent compressor
- Compact, mobile and high tech
- Very simple to use
Description
The refrigerant used is pure (R134a) which absorbs heat in the evaporator (on the grapes, musts, cold water, etc.) and releases some into the condenser (in the ambient air or to produce hot water to use in the winery). The refrigerant makes the transfer.
This evaporator is designed with 3 concentric circular tubes:
The interior tube allows the circulation of the grapes, the must and the wine
The first annular space allows the circulation of the refrigerating gas
The 2nd annular space allows the circulation of the liquids: water and glycol.
Energy is recovered by a plate heat exchanger which can heat water to obtain excellent energy performance (COP>6). Hot water is produced for the same operating costs and can be used to reactivate yeasts, heat for malolactic fermentation, wash the winery or other purposes.
Technical Details
Gas Used: R134a
Control with interface programmer
Wheel for handling
Compressor: scroll
Stainless steel 304L
Power supply: 16A - 380V 3P + T in 50 Hz
Up to 3 Green Cryo possible in series
Display: Temperature at outlet