PNEUMATIC PRESSES
PERA pneumatic presses are designed for high quality juice extraction. The pressing programmes allow you to adapt your pressing precisely to your needs. The broad range of pneumatic presses, from 20 to 600 hl with open or closed cage, meets the needs of all types of cellars.
ADVANTAGES
Quality:
- The juices run off at a lower level
- Improved and preserved aromas
- Clear juice thanks to a thick press cake
- ENOXY and ENOXY+ anti-oxidation systems
- End of press better protected and usable
Cost effectiveness:
- The press can be used for maceration
- The installations are monitored with after-sales on the spot
- Type of cycle can be tailored to needs
Performance:
- Intuitive and ergonomic colour touch screen
- Easy to clean and maintain (automatic drain washing)
- Easy to use
Comfort:
- Full range tailored to all cellars
- Total drain plug allowing for meticulous cleaning of the press
- Robust
- Compact presses
CHARACTERISTICS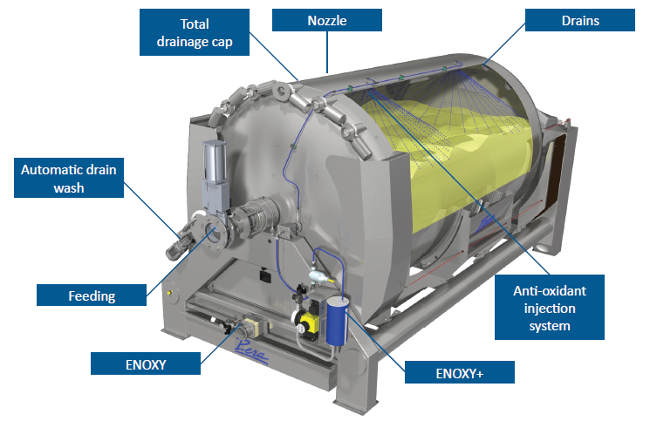 Optimal design for pressing to meet all requirements:
The tanks are equipped with an air diffuser drain which allows a better balance of pressure on the membrane, and a more effective pressing.
The PERA presses use a membrane that can press a very small quantity of grapes.
A spire collects the pomace near the gate for fast emptying (depending on the model).
USER FRIENDLY PROGRAMMING
The PERA automation and programming allow you to:
Programme the pressing cycles
Manage any problems (information about the fault and the proposed solution)
Save the data and programmes on a USB stick for complete traceability
Alter the pressing programme in real time
Control several presses from the same panel.